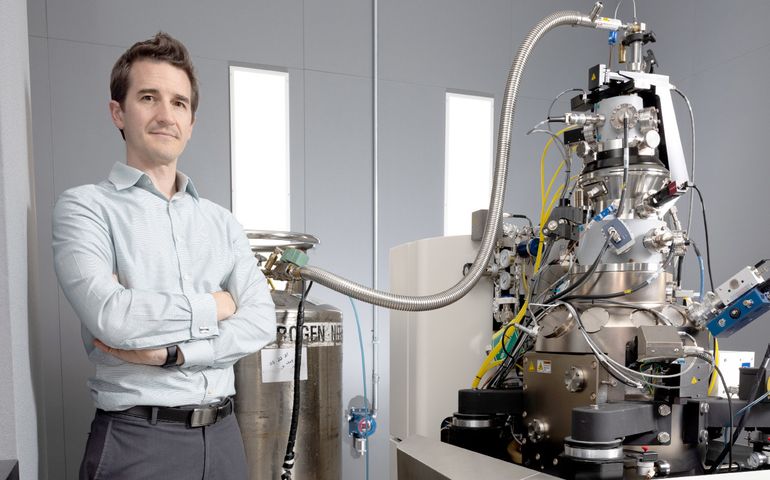 Journal:
Hartford Business Journal
Scientists at New Haven-based Quantum Circuits Inc. are working to develop and bring the first practical quantum computers to the public.
The Yale spinout's leaders say quantum computing technology will mean faster, more powerful information processing than what's available in today's supercomputers.
The technology is expected to have applications from cybersecurity and designing new pharmaceuticals to artificial intelligence and weather prediction.
Now, an effort is underway to make Connecticut a hub for quantum technology-related businesses like Quantum Circuits, with the goal of creating jobs and boosting the economy.
In May, the U.S. National Science Foundation (NSF) awarded a $1 million federal planning grant to Yale University and the University of Connecticut toward this effort.
The universities will use the money to develop plans to facilitate the growth of startup and existing quantum-related companies, find ways academic research can help these companies, and prepare residents for jobs in the field.
University officials hope their planning efforts will then lead to additional federal funding, up to $160 million, to implement those ideas, potentially turning the state into a hub for quantum-related business.
New capabilities
The "Quantum-CT" initiative aims to make the state the country's accelerator for quantum technologies, backers say.
It's a burgeoning industry. Quantum technology startup investment last year reached a new all-time high of $2.35 billion, and the global quantum tech sector is expected to be a $106 billion market by 2040, according to an April 2023 Quantum Technology Monitor report from McKinsey & Co.
Dozens of partners are involved in the Quantum-CT effort, from universities to government officials and the Connecticut Business & Industry Association (CBIA), Connecticut Innovations, CTNext, AdvanceCT, Yale Ventures and UConn's Technology Innovation Program.
"This could be revolutionary for our state," said Michael DiDonato, UConn's project manager for the Quantum-CT initiative.
"The quantum industry is fascinating, and it's far more than just fancy fast computers," said DiDonato. "Nowhere else is there an unexplored industry with such broad possibilities across so many different disciplines. This is an entirely new industry, and to see it blossom here in Connecticut will require work in multiple areas."
According to DiDonato, those involved in the project will use the initial grant in four areas: research, translation of innovation to practice, workforce development, and advancement of the state's quantum ecosystem.
HBJ | Steve Laschever
In addition to leading UConn's new "Quantum-CT" initiative, Michael DiDonato is the business development manager of UConn's Innovation Partnership Building. His job is to connect businesses with the researchers and high-tech equipment at UConn Tech Park.
UConn and Yale are currently building a team of academic researchers, industry stakeholders and community leaders for the effort, he said.
"While the work of this team will certainly help entrepreneurs build new companies related to quantum, the focus is just as much on building an environment to foster quantum innovation," DiDonato said.
Quantum technology will have applications for many different types of businesses, he said.
The project will work to identify new business opportunities in health care, finance, energy, materials science, weather forecasting, defense, transportation and agriculture.
"Truly, these are just a fraction of the potential applications," DiDonato said. "At its core, this is a new technology with new capabilities, and we will leverage this award to identify complex problems needing solutions to drive innovation in Connecticut."
Michael Crair, Yale's vice provost for research and co-principal investigator for the NSF grant, said the goal is to build an innovation ecosystem around quantum technologies in Connecticut.
"We also think it will be a great way to deepen and broaden our collaborative relationship with UConn, commercial and government partners in Connecticut," Crair said.
Attracting talent
Quantum-related businesses face workforce challenges, which is an issue for many industries, according to CBIA President and CEO Chris DiPentima.
"Businesses across the state are doing everything they can to attract and retain talent," DiPentima said. "We need to grow the state's population to grow the economy. This kind of investment in innovation will not only attract businesses and workers to Connecticut, but will provide the training and support needed to create the next generation of the state's workforce."
Connecticut doesn't currently have the workforce needed for future quantum-related jobs, DiDonato said. However, he notes that neither does anyone else.
Educators will play a key role in creating the quantum workforce of the future, university officials said.
"We need to inspire," DiDonato said. "It's more than just training new engineers, physicists, material scientists and computer scientists."
He stressed reaching children at a young age to get them interested.
"We need to cast a broad net and inspire a diverse group of K-12 students and show them that there's something remarkable and fascinating in quantum," DiDonato said. "It will affect students in the arts, marketing, business and tech schools. Ten years from now, Connecticut needs a legion of curious youth ready to implement new quantum technological achievements to solve society's greatest challenges; this grant is Connecticut's next step towards this goal."
Those involved in the effort will partner with educational institutions and non-governmental agencies statewide to enhance training opportunities at the local level, according to Yale's Crair.
"Connecticut has a highly educated population, but additional and expanded technical training, from high school through advanced degrees, will be required to build a workforce that can drive the growth of a quantum industry in (the state)," Crair said.
Commercialization, research challenges
According to Crair, there are a number of other challenges quantum-related businesses are facing.
"Significant technical barriers remain to translating laboratory discoveries into products that are commercially viable," Crair said.
There is also a knowledge and communications gap between academics at universities and their corporate and commercial partners, he added.
"University faculty often are simply unaware of specific technical barriers corporate partners face for commercial translation of technologies," Crair said.
Meanwhile, corporate partners are often not aware of scientific advances that have been made in university laboratories that might have huge commercial potential, according to Crair.
A goal of the Quantum-CT effort is to improve communication, so academics can help address scientific problems their commercial partners are facing, Crair added.
In addition to Yale startup Quantum Circuits Inc., there have been Yale students who have gone on to start quantum-related businesses, such as California-based Rigetti Computing, founded by Chad Rigetti.
Yale has future quantum startups in the pipeline in memory technology, algorithms and encryption software, Crair said.
"These are not yet launched," Crair added, though he hopes they will be soon, with the help of Quantum-CT and the NSF grant.
Matt McCooe — CEO of CT Innovations, the state's quasi-public venture capital arm — said the U.S. National Science Foundation has a 20- to 30-year perspective on where the United States should be investing now, so its economy thrives in the decades to come.
"Connecticut Innovations sees quantum technology as a ripe area for innovation and investment," McCooe said. "CI is hoping to invest in the most promising tech that emerges from this program. We want to be part of the commercialization of the products that will benefit from quantum mechanics and effects, be they improved MRI, solar cells or supercomputers."