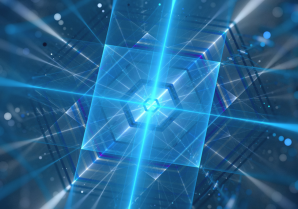 Wednesday, August 5, 2020
Yale University is among the core partners of the new Center for Quantum Networks (CQN), funded by the National Science Foundation (NSF).
With the University of Arizona serving as the lead institute and host, the center will be funded with an initial five-year, $26 million grant from the National Science Foundation, with an additional five-year $24.6 million option. In addition to Yale, partners include Brigham Young University, Harvard University, Howard University, the Massachusetts Institute of Technology, Northern Arizona University, University of Chicago, University of Massachusetts Amherst and University of Oregon. 
The center is part of the NSF's Engineering Research Center (ERC) program, which supports education, technology translation and research at U.S. universities designed to have strong societal impacts. Although they're initially funded by the NSF, ERCs are expected to be self-sustaining within 10 years.
CQN aims to lay the foundations of the quantum internet - a communications network that would be more secure and could work with the next generation of computers. The CQN will also investigate the impact of a future quantum internet on education, workforce development, innovation and society. 
Yale's participation in the center is led by Leandros Tassiulas, John C. Malone Professor of Electrical Engineering & Computer Science; Hong Tang, the Llewellyn West Jones, Jr. Professor of Electrical Engineering, Applied Physics & Physics; and Michel Devoret, the Frederick W. Beinecke Professor of Applied Physics & Physics.
Quantum technology takes advantage of the properties of electrons, photons, and atoms to develop computers powerful enough to process a massive amount of information. Tassiulas said the center will be at the forefront of creating the future quantum internet.
"This project would realize the underlying interconnection infrastructure that will be based on quantum phenomena like quantum entanglement," Tassiulas said. Quantum entanglement is the uncanny ability for two particles to interact, regardless of distance and no physical connection. Such a network, researchers say, could revolutionize how people compute and communicate by creating a fabric to connect quantum computers, data centers and gadgets using their native quantum information states of "quantum bits," or qubits. Qubits offer dramatic increases in processing capacity by not just having the 0 or 1 state of the classical bit, but also allowing what is termed a "superposition" of both states at the same time.
Tassiulas said his role will be in developing  network level protocols for this new interconnection infrastructure – analogous to the protocols realizing today's Internet. Tang and Devoret will focus on the hardware of quantum technology. 
The center is one of the NSF's four new engineering research centers announced Tuesday. The other centers will focus on extending the viability of cells, tissues, organs and organisms; designing sustainable infrastructure for electrified vehicles; and realizing precision agriculture. 
"For the last 35 years, engineering research centers have helped shape science and technology in the United States by fostering innovation and collaboration among industry, universities and government agencies," said NSF Director Dr. Sethuraman Panchanathan. "As we kick off a new generation of centers, NSF will continue to work with its partners to ensure the success of these collaborative enterprises and the transformative, convergent research impact they produce."
A major focus of the CQN team will be advancing key underlying technologies, including fundamental quantum materials and devices, the quantum and classical processing required at a network node, and quantum network protocols and architectures. CQN also aims to demonstrate the first U.S.-based fault-tolerant quantum network that can distribute quantum information at high speeds, in high fidelity and over long distances, and to simultaneously serve multiple user groups. CQN research will accelerate recent advances in quantum computing by scaling quantum computational capabilities with distributed access through a quantum network. 
In addition to the nine university research partners, a large innovation ecosystem of over 10 companies and the potential of $2 billion of venture capital has been cultivated during the proposal process. As the case with today's Internet, quantum networking technologies show great promise for U.S. economic development, and CQN's industry partners have indicated strong interest in the potential for new quantum device and system technologies. A key component of CQN's Innovation Ecosystem is a partnership with the Quantum Economic Development Consortium, a National Institute of Standards and Technology-led consortium aimed to form a functional bridge between quantum information science and engineering researchers and the industry. CQN's industry partnerships will also play a valuable role in defining application road maps to inform CQN's technical direction and research investments.