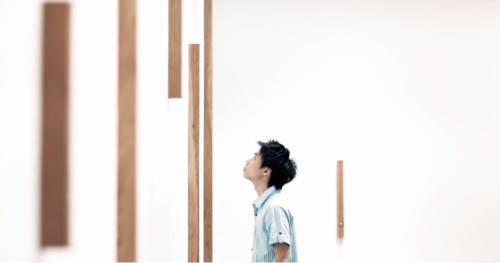 Thursday, February 14, 2019
Composer and current Yale Quantum Institute (YQI) artist-in-residence Spencer Topel will discuss how site-specificity, notably in architecture, is inherently linked to experiential art installations — and how this informs his practice as a sound artist — in a talk on Thursday, Feb. 28. The event, part of a series of nontechnical talks sponsored by YQI and the Franke Program in Science and the Humanities, will take place at 7:30 p.m. in Rm. 250 of the Loria Center, 190 York St.
Titled "Immaterial Waves: Light, Sound, and Architecture," Topel's talk will examine recent artistic works and research in relation to the historical emergence of phenomenological art forms in the 1960s and 1970s in the work of Alvin Lucier, Maryanne Amacher, James Turrell, and others. He also will present examples of sound/art installations where artists have taken full advantage of their surroundings to create immersive pieces.
"We take buildings for granted," says Florian Carle, manager of the Yale Quantum Institute. "For most of us, it's a shelter, and for some, an architecture work of art. But we all often overlook the influence buildings have on our perception of the world at the acoustic level."
In addition to sharing ideas concerning the interplay between sound, light, and space, Topel will offer a preview of the sound work he has been developing with the quantum physicists at YQI. The work, a collaboration between Topel and two graduate students in applied physics, Kyle Serniak and Luke Burkhart, will be performed live on two quantum computers at a concert in June during the International Festival of Arts & Ideas.
Spencer Topel and Kyle Serniak in the quantum laboratories in Becton Center listening to the first sound the quantum computer made.
Created by Carle, the YQI's series of nontechnical talks has attracted over 450 attendees since its creation in 2017 by leveraging the intersectionality of science and the humanities. Carle's aim is to engage audiences to discuss certain subjects that "might look scary at first glance like quantum physics, mathematics, or engineering," he says.
Topel's talk is free (but tickets are required via Eventbrite) and open to the public.