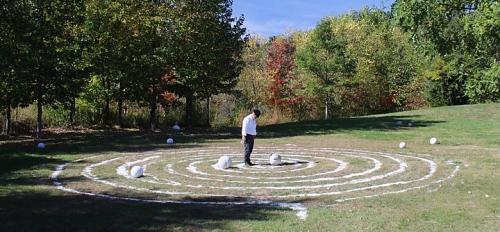 A spiral installed outside the Eli Whitney Barn on Whitney Avenue invited visitors who had come for City Wide Open Studios to linger, and linger — and make connections between art, science, and the natural world that they might not soon forget.
Saturday marked the middle of CWOS's Private Studios Weekend, in which artists all over town flung open their work spaces for the public to see what they were up to. At the Eli Whitney Barn, that meant getting the chance to see the work of Alexis Brown, Leslie Carmin, Susan Clinard, Maura Galante, Martha Lewis, and Kiara Matos.
Clinard in her open studio.
The barn enjoyed a steady stream of visitors all day, many of whom stopped to ask questions, converse, buy a piece or two, and get inspired in their own art making.
Along the way, it was possible to make connections among the artists' work in the barn, to see how the whole thing could be a cohesive whole. Alexis Brown's kinetic depictions of animals, crackling with energy, found parallels in the neighboring work of Maura Galante, who used layers of color and shapes from nature to create her vivid prints and collages.
Galante.
Galante is an art teacher at Betsy Ross Arts Magnet School and teaches at Creative Arts Workshop. She started printmaking in college in 1986 and had been working with color fields in 2007 when she went to an exhibit by artist Anselm Kiefer that referenced Peter Tompkins's 1973 book The Secret Life of Plants.
"It's this hippie junk science, psychedelic or something," she said with a laugh. But it also got her thinking. "Do plants feel? Are they aware? Can they communicate with us? I could get a lot of imagery out of it."
She began to layer print after print, using shapes from the natural world, whether it was diagrams of plants, photographs of estuaries, or the curl of a nautilus.
"After a while, you just fall in love with the process," she said. "You can keep going back — months later, years later" to keep adding layers. After all, it's only done when the artist says so. For Galante, that meant continuing to add layers of richness, ragged lines that passed through the pieces. "Maybe these lines and circles are the communication," she said. "If you could see sound, maybe that's what it looks like."
Lewis.
Galante's inspiration in nature found echoes in the latest installation by Martha Willette Lewison the other side of the barn, a product of her ongoing position as artist in residence at the Yale Quantum Institute. Lewis's piece, called "Remembering Memory," dove into the history of computing, and of the "memory slices" that once made up the core memories of the room-size supercomputers that ushered in the information age.
Lewis explained that the mesh on the memory slices were actually woven by hand, and the information contained on them "is more stable than what we have now" in computer hard drives. As Lewis's accompanying text elaborated, "Space Shuttle flight computers initially used core memory, which preserved the contents of memory even through the Challenger's disintegration and subsequent plunge into the sea in 1986."
The fragility and permanence of memory — what and how much we remember, what and how much we forget, and what we can recall — were foremost in Lewis's mind as she contemplated her barn piece. "I wanted a Zen garden where you think about memory," she said. She considered her own memory, a tricky thing. "I think of my unconscious memory as pretty smart, and my conscious memory as pretty stupid." With all that we forget, all that we lose, was it possible to capture some of it in art?
Looking at the lattice that Lewis had hung at the edge of her installation, which allowed viewers to look through it to fellow artists' works beyond, and all the people coming and going on this warm fall day, it was possible to see that Lewis had expanded the idea she had come across from the first age of computing. She had made the entire barn, and everyone in it, into a memory slice. Even if the barn itself wouldn't remember the weekend later, perhaps some of the people passing through it would.
City Wide Open Studios concludes in Erector Square Oct. 28 and 29. Click here for more information.