Event time:
Friday, April 8, 2016 - 12:00pm
Location:
Yale Quantum Institute
17 Hillhouse Avenue
New
,
CT
06511
Event description:
Harnessing the quantum world – can lab experiments become technologies?
The effort to develop practical quantum technology is ramping up worldwide, with the UK and other governments recently announcing hundreds of millions of dollars worth of investment. Some say this is premature! Are we now sure that complex quantum systems can be adequately controlled, and sufficiently scaled, that they will be useful outside the lab? I will ague that the answer is "yes". After reviewing recent achievements in experiments, theory and applications, I will argue that we should expect to see three kinds of quantum computer emerging in the near future. I'll describe one in detail: the Q20:20 machine, an optically-networked mesh of ion traps. Containing hundreds of qubits, its creation is the primary goal of the UK's $60M Oxford-led Quantum Hub.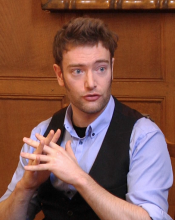 Bio: Simon Benjamin is Professor of Quantum Technologies at Materials Department in the University of Oxford, and an Associate Director of the Oxford-led UK Hub on Networked Quantum Information Technologies (NQIT). Simon leads a team of ten staff and students called the Quantum and Nanotechnology Theory group (QuNaT). They are applied theorists, who study various questions relating to how build and use a new generation of technologies based on harnessing quantum effects. The group has interests ranging from energy harvesting to sensors to secure communications, and even the question of whether quantum effects are exploited by biology; but their primary interest is in information processing systems.
Simon has been a Visiting Professor at the Centre for Quantum Technologies in Singapore, and is currently a visiting researcher at the Singapore University of Technology and Design.